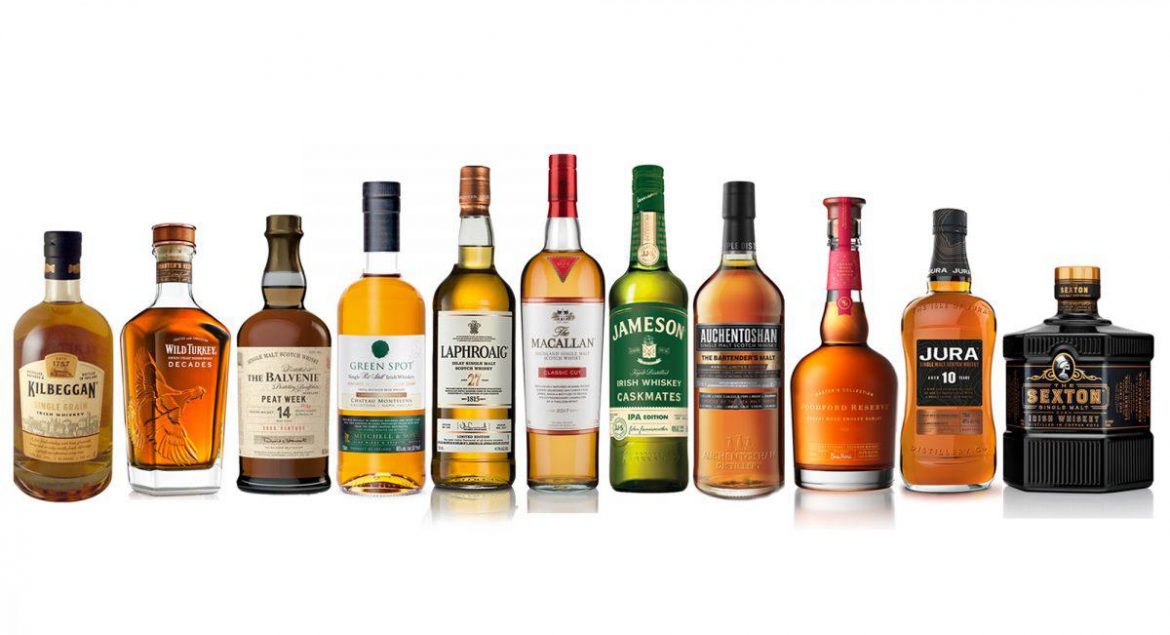 Not one weekend passes in Lagos, Nigeria's party capital without a party. After a long week hustling and sitting in the infamous Lagos traffic jams, Lagosians find their way to parties to unwind. They try to relieve the stress of the week and refresh themselves for the next week.
Alcohol is a constant feature of these parties, Lagosians sure do know how to enjoy their alcohol and one of the types of alcohol they enjoy the most is whiskey. People have begun to enjoy whiskey more because it does not get them unnecessarily high nor put them in low spirits.
myliquorhub.com offers the best whiskey brands that are highly rated in Lagos parties at the best prices in Nigeria, some of these brands include
Johnnie Walker is the best-selling brand of Scotch whisky and the most widely distributed Scotch whisky brand in the world. Johnny walker sells over 100 million bottles of whisky every year, even if you are not a whiskey drinker, you must have heard of the Johnnie Walker brand . Some of Johnny walker products are
Johnny Walker Black Label
Johnny walker black label is an icon of the whiskey world, the benchmark for all other deluxe whiskey blends. It is an impressive whiskey that is suitable for any celebration.
black label is the whiskey of royalty, so order your Johnny walker black label from myliquorhub.com and party like royalty. Drink Johnny walker black label neat over ice
Johnny walker Blue Label
The ultimate luxury Scotch Whisky and the rarest and the most prestigious of the Johnnie Walker brand , Johnnie Walker Blue Label an extraordinary whiskey for extraordinary parties.
Sip the blue label straight with ice or add a little water to enjoy the flavours
Johnnie Walker Gold Label
With an alcohol content of 40 % and a luxurious feel and smoothness , it is the perfect whiskey for unforgettable nights with friends.
Johnnie Walker gold label is a blend of fruity flavours. The combination of these flavours creates the Johnnie Walker gold label.
Johnnie Walker Red Label
The first and the most popular Johnny walker whiskey and the perfect whiskey for any party. The red label was purposely created to be mixed with soda.
Red label can be enjoyed neat on the rocks and it is also perfect for cocktails.
Order Johnny walker whiskey products on myliquorhub.com and have it delivered to your doorstep
Jameson whiskey is a triple distilled whiskey with a smooth taste, a crisp sippable drink and the world's favourite Irish whiskey. "so smooth I'd drink it even if my name were not on it"-John Jameson. Myliquorhub.com offers two Jameson whiskey products : Jameson whiskey and Jameson black barrel. They both distilled three times to give it its smooth texture. Jameson Whiskey is best enjoyed neat on the rocks or mixed with Sprite/7Up and Lime, or in a cocktail.
Glenmorangie is Scotland's favorite whiskey, founded in 1843 in the Scottish Highlands. The Glenmorangie brand offers up to 4 different whiskeys, all of which are exceptional and can be found on myliquorhub.com.
Glenmorangie 10
The Glenmorangie 10,an award winning single malt whiskey, matured for 10 years in the finest Oak casks which are only used twice. The Glenmorangie 10 original is a single malt whiskey sets the standard for other Highland whiskeys, it is refreshing and satisfying.
Glenmorangie 18
Distilled in the tallest malt whiskey stills in Scotland and matured in Oak casks. Glenmorangie 18 is creamy with a combination of fruity flavours and subtle cinnamon, honey and exotic Berry scents.
One of the best of the Glenmorangie range, it can be enjoyed neat on the rocks or mixed as part of a cocktail, perfect for parties.
Glenmorangie 12
The Glenmorangie 12 has won multiple awards, the International Whisky Competition 2019: Best Single Malt Scotch 12 Year Old award and the San Francisco Spirits Competition 2018: Gold Medal.
It has a luscious, soft, mouth-filling texture and a deep, enticing, sweet aroma and can be enjoyed neat on the rocks or mixed with cocktails.
Glenmorangie Signet
made from a blend of Glenmorangie's oldest whiskey, distilled over 30 years ago and matured in a selection of the world's finest casks.
Glenmorangie signet has flavours of fresh citrus, chocolate, bitter coffee and cocoa. Glenmorangie signet is best enjoyed on its own own, straight with ice or a sprinkle of water.
Buy Glenmorangie whiskey products in Nigeria from myliquorhub.com at the best price in Nigeria.
Founded in 1886 and produced with the choicest corn, rye, and barley, the grains are mixed with the iron-free water that flows from the Cave Spring and it is matured in handcrafted white oak barrels.
It has aromas of vanilla, corn, caramel, banana and toffee, the ideal sipping whiskey and a must have at every party.
Jack Daniels can be enjoyed straight, neat on the rocks or mixed with soda and as part of cocktails.
Get on myliquorhub.com and order your jack Daniels to make your parties memorable
WILD TURKEY AMERICAN HONEY
Founded in 1855 by Austin Nichols, American Honey is a liqueur made from a blend of pure honey and wild turkey Bourbon whiskey.
American Honey has a clean spicy taste and powerful flavour of ghost pepper which is followed by the smooth taste of pure honey.
An exceptionally smooth drink, it tastes best when served chilled. sweeter and smoother than wild turkey Bourbon, it is divine when drunk straight on the rocks.
American Honey is a great sipping whiskey perfect for any type of party.
Order American Honey from myliquorhub.com at the best price in Nigeria and have it delivered to your doorstep.
WHISKEY
Whiskey is an alcoholic beverage distilled from fermented grain mash. Different types of grains are used for different types of whiskeys, including barley, corn, rye, and wheat. The distilled beverage is typically aged in wooden casks, mostly charred oak casks.
The common characteristics of the different classes and types of whiskeys are the fermentation of grains, distillation, and aging in wooden barrels.
It can be spelled as "whiskey" or "whisky", the Scottish spell it as "whisky "while the Irish spell it as "whiskey", with an extra 'e'.
IS WHISKEY GOOD FOR THE HEALTH?
Whiskey was once used as a medicinal drink and studies have shown that whiskey has a lot of health benefits. Not only does whisky taste good, but it is good for you. Here are some health benefits of whiskey.
It lowers the risk of Heart Disease
Whiskey helps in fighting cancer
Promotes Weight Loss
Reduces Stress
It Helps to fight cold
Aids digestion
Boost Your Immune System
Reduces the risk of Diabetes
.
TYPES OF WHISKEYS
There are many types of whiskeys, some unique to their countries of origin and some with a unique mode of production: Irish whiskey, Scotch Whisky, American whiskey, Japanese whiskey, Canadian whiskey, single malt whiskey etc.
Scotch whiskey sometimes called Scotch is produced in Scotland, the most famous and revered of all the Whisky producing countries. Scotland has a wide range of whiskies. Scotch whiskey made with either malt or grain, the distilled spirit must be aged in oak barrels for at least 3 years and each bottle must show the age of the youngest whiskey used to make the blend.
Irish whiskey is made from a mash of malt and put through a triple distillation process to give it a smooth and fruity flavour. Irish whiskey is one of the oldest types of whiskey, Irish whiskey is the smoothest of all the whiskeys and can only be distilled using water and caramel colouring and it is then aged in wooden casks for at least 3 years
Irish whiskey that can be bought on myliquorhub.com include Jameson whiskey, Jameson black barrel, Sheridan's liqueur.
American Whiskeys include Bourbons, Ryes, Tennessee Whiskeys and Straight Corn Whiskey, all of which offer a distinct flavour profile. American whiskies that can be bought on myliquorhub.com include Jack Daniels and American Honey.
The term "single malt whiskey" refers to a whiskey that is produced by a single distillery using a single malted grain, which is typically barley. Single malts are most famous among Scotch whisky.