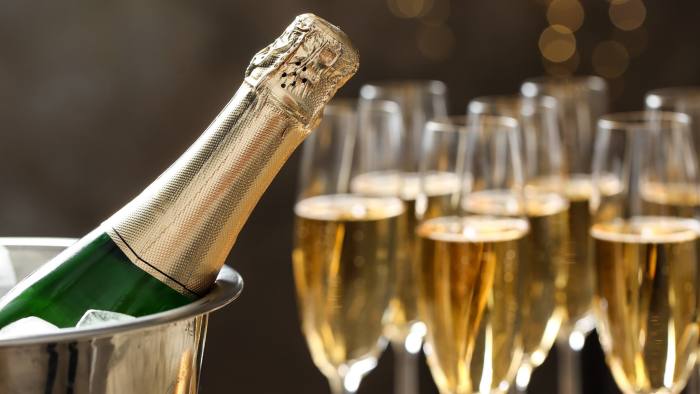 BEST SPARKLING WINES / CHAMPAGNES YOU SEE IN NIGERIAN WEDDING CELEBRATIONS
Nigerians love to hear the pop of champagne and sparkling wine bottles. Sparkling Wines are the party starters of Nigerian celebrations and one of the most important refreshments of Nigerian weddings. Weddings are incomplete without the sound of the pop of a wine bottle; we love to see those bubbles gush out of the bottle.
These are some of the best sparkling wines/champagnes used in Nigerian weddings and they can be found on myliquorhub.com
Made from a blend of crisp white and succulent red grapes, Andre rose sparkling wine is sweet champagne with a vibrant and fruity taste.
The Andre Rose is not a basic champagne, it pops with deliciously blended Fruity flavor ; a luxury wine that doesn't require you to break your bank for celebrations.
Andre Brut California is the perfect party starter for any celebration, a crisp sparkling wine.  André Brut is a floral and fruity Effervescent sparkling wine With a sweet taste.
Andre Brut is a sweet tasting wine with a light mouthfeel and is well complemented with fish, rice or vegetable dishes.
The Luc Belaire is known best for its eye catching bottles, the most impressive of which is the Fantôme edition which has a label that glows at the push of a button.
Made popular by Hip Hop artistes Rick Ross and DJ Khaled, the Luc Belaire rose is a sweetly rich wine with fruity taste and sparkling colour. 
One of Nigerian's favorite, The Martini Rose sparkling wine is an elegant sparkling wine from the Martini & Rossi family. The Martini Rose has a semisweet taste with a blend of strawberry and citrus flavour which makes it soft, Fruity and balanced.
The Moet and Chandon brand is the largest champagne house in France, a prestigious brand with some of the best champagnes which can all be bought on myliquorhub.com.
The imperial Brut is the house's iconic champagne and one of the most loved champagne. Moet imperial Brut is aged for up to 5 years, it has an aroma of green apples, citrus fruits, white flowers and fresh nuts and it has a fruity taste with notes of apple, citrus and pear.
The Moet imperial rose has the most seductive and extrovert look of the Moet and Chandon style, it has a pink colour with Amber highlights.
The taste of the Moet imperial rose is marked by the juicy intensity of berries, rounded out by fleshiness and firmness of peach and a subtle note of mint.
Revolutionary champagne, the ice imperial is the first champagne created to be served straight with ice. The ice imperial is refreshing with a great sparkling taste  an exquisite design.
The Moet ice imperial is perfect for celebrations Moet and Chandon is synonymous with cherished traditions and modern pleasures.
Made from a blend of pinot noir, pinot Meunier and Chardonnay grapes, the Moet nectar imperial is boldest and most unexpected of the Moet & Chandon champagnes.
The Moet nectar imperial is distinguished by its tropical fruitiness, rich flavours and a crisp finish that reveals the magic of the world most loved champagne.
The Moet nectar imperial rose is a deep and full bodied champagne,  nectar imperial rose is bright pink with an aroma of red and black currants with notes of caramel, nutmeg and strawberry.
Moet holds a royal warrant to supply champagne to the Queen of England so you'll feel like royalty when sipping the Moet and Chandon nectar imperial Rose.
Freixenet is a Spanish Cava producer, the largest producer of Cava sparkling wine worldwide. Freixenet is pronounced "fresh Annette". Freixenet offers two major products and they can be bought on myliquorhub.com.
Freixenet Ice
 Freixenet Ice brings a new dimension to the sparkling wine category, a new refreshing way to drink Freixenet.
The Freixenet Ice is designed to be enjoyed in a big glass with large chunks of ice or mixed with your choice of extra flavours to enhance its intensity. It takes the Mediterranean spirit everywhere.
Freixenet Ice Rose
Freixenet Ice Rose is made from a blend of the most noble red grape varieties – Garnacha and pinot noir. It is designed to be enjoyed in a big glass with large chunks of ice.
Freixenet Ice Rose is extra refreshing and the perfect drink for celebrations.
WHAT IS THE DIFFERENCE BETWEEN SPARKLING WINE AND CHAMPAGNE
Sparkling wine is a type of alcoholic wine made from grapes with a high amount of carbon dioxide in it which makes it fizzy. The carbon dioxide in the wine is usually a result of natural fermentation in a bottle, a large tank known as the 'chermant' process or through the injection of carbon dioxide directly into the wine as with some cheaper sparkling wine.
The fermentation process is done with the simple formula of "sugar +yeast " which results into alcohol and carbon dioxide, the carbon dioxide is not allowed to escape so it returns into the wine, it is then released in the form of tiny bubbles when opened.
Champagne, the common name used to refer to all sparkling wine is a French sparkling wine produced in the Champagne region of France. Champagne is made from grapes specifically grown in the Champagne region. The grapes primarily used in producing champagne are 'pinot noir ', 'pinot meunier ' and 'Chardonnay' but some amount of other grapes like the 'pinot blanc', 'pinot gris ', 'Arbane ' and 'petit Meslier ' are used as well. These are the only grapes specifically used in making champagne.
So what is the difference between sparkling wine and Champagne? The simple fact is that all champagne is sparkling wine but not all sparkling wine is champagne.
Champagne is called champagne because it is made in the Champagne region of France ; in some European countries, there are laws that prevent any sparkling wine not made in the Champagne region 'champagne '.
Although champagne can be made anywhere in the world with the right grapes and process, real champagne only comes from Champagne.
There are different types of sparkling wine and they are usually identified by their location of production.
Champagne, which is the most popular sparkling wine
Prosecco : it originates from the village of Prosecco in Italy
Cava : produced in Catalonia Spain
Grenat, which is produced in several areas of France which include limoux, Loire and Burgundy
Sekt, a sparkling wine from Germany and
Rose, known for its pink color and fruity aroma. It is produced in several places, Italy, California and France
DIFFERENCES BETWEEN CHAMPAGNE AND PROSECCO
There is not a lot of differences between champagne and prosecco since they are both sparkling wine. The most significant difference is that champagne is a French sparkling wine from the Champagne wine region of France while prosecco is an Italian sparkling wine named after the village of Prosecco in the veneto and friuli Venezia regions.
The method used in producing champagne takes more time and is more intensive than Prosecco's production process and this makes champagne more expensive than prosecco.
Champagne is primarily made from 'Pinot noir ', 'pinot meunier 'and Chardonnay grapes while prosecco is primarily made with Prosecco grapes, also called Greta grapes.
ARE OTHER SPARKLING WINES CHEAPER THAN CHAMPAGNE?
While champagne is the most popular and most sought-after sparkling wine, their prices are not determined by their popularity. These are some of the factors that determine their prices
The amount of work put into making the wine
The value of the land where the grapes are grown
And the amount of bottles made
Generally the more expensive sparkling (champagne, American sparkling wines) are made through a strict process of fermentation called "méthode champenoise" a set of guidelines developed in France. It is a complex process that requires winemakers to handle each bottle individually.
Prosecco and other sparkling wines are made using the 'Charmat' process where the wine is fermented in large tanks and transferred to bottles.
The cheapest are made by pumping carbon dioxide into the wine like soft drinks.