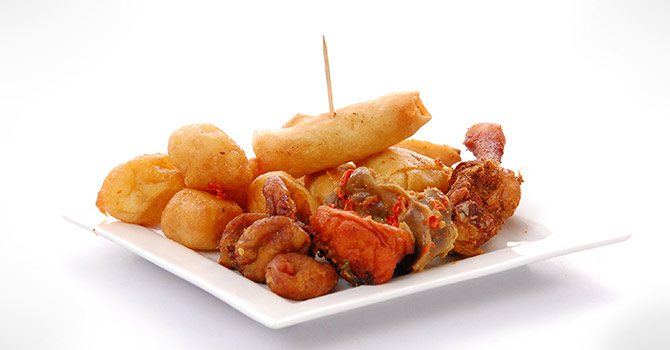 What is the meaning of small chops?
Small chops are finger foods mostly served mostly at parties and events in Nigeria . They are basically the Classic Naija snacks made into bite sizes.
small chops include just baby puff puff, chicken kebab, mini donuts, stick meat, Peppered Gizzards/Snails, Gizdodo, Mini sausage Rolls, chin chin, Mini fish rolls but recently spring rolls and samosa have been added to it.
Small chops are a common sight in Nigerian functions , from Nigerian weddings to Lagos parties to meetings, schools, gatherings etc.
First, let's get familiar with some of our small chops;
Mini Puff Puff : The mini or baby puff puff is simply a smaller size of the original puff puff. It is made by dropping flour in hot oil
Mini Sausage Rolls are always a welcome treat at every festive gathering. It is easy to prepare and also classified as a Nigerian Small Chop. The recipe for the dough is exactly the same as the classic Nigerian Sausage roll recipe, but for the filling but sometimes with extra fillings
Smoked/grilled roasted peppered meat(Asun): It is classified as a "Nigerian Small chop" and served at parties as an appetizer, alongside other finger foods. Just as the name implies, Asun is "spicy", as in "pepperish" and deliciously irresistible
If you do not like spicy food though, you can also modify the recipe and cook with less pepper to suit your palate, so no more excuses not to eat asun.
Gizdodo is also known as Gizzards and dodo, or Gizzdo: it's basically names for a Nigerian dish prepared with a combination of gizzards and plantains (dodo).
Nigerian mini donuts/doughnuts are the smaller version of the popular Donuts; This smaller sized donuts have suddenly become a common sight at the small chop/appetizer meal section of most Naija festive gatherings.
Nigerian Samosa: This is actually the old Asian Samosa. It is a "borrowed" recipe which has become very popular in Nigeria, that a lot of people think it's a Naija delicacy.
Spring rolls is a very popular snack, usually called a "small chop" and served as an appetizer at wedding parties and other festive occasions. There are several varieties, but the most popular one is usually filled with minced chicken and vegetables and wrapped in a spring roll wrapper.
Small chops are nice and taste great but when paired with certain beverages, eating them is more satisfying. These are some of the best beverages that go well with small chops. You can buy get these beverages on myliquorhub.com
Champagne / Sparkling Wine
Sparkling wines are a Nigerian favorite and are always present in every Nigerian party, apart from their delightful pop, they are perfect pairers with small chop.
Made from a blend of crisp white and succulent red grapes, Andre rose sparkling wine is a sweet champagne with a vibrant and fruity taste. The Andre Rose is not a basic champagne, it pops with deliciously blended Fruity flavor ; a luxury wine that doesn't require you to break your bank for celebrations.
Andre Brut California is a perfect pair for small chops , a crisp sparkling wine. André Brut is a floral and fruity Effervescent sparkling wine With a sweet taste. Andre Brut is a sweet tasting wine with a light mouthfeel and is well complemented with fish, rice or vegetable dishes.
The Luc Belaire is known best for its eye catching bottles, the most impressive of which is the Fantôme edition which has a label that glows at the push of a button, but it is also great with small chops. Made popular by Hip Hop artistes Rick Ross and DJ Khaled, the Luc Belaire rose is a sweetly rich wine with fruity taste and sparkling colour.
One of Nigerian's favorite, The Martini Rose sparkling wine is an elegant sparkling wine from the Martini & Rossi family. The Martini Rose has a semisweet taste with a blend of strawberry and citrus flavour.
Cocktails are alcoholic mixed drink, which is either a combination of spirits, or one or more spirits mixed with other ingredients such as fruit juice, flavored syrup, or cream. Sometimes it is prepared without alcohol. Cocktails go very well with small chops.
Schweppes Virgin Mojito
The Schweppes virgin mojito is a refreshing drink with a satisfying taste that suits every occasion (the virgin in the name implies that it is non-alcoholic) . It is a mocktail with the ingredients of a mojito except the alcohol, all you need to do is add white rum to it and you have yourself a regular mojito cocktail. Basically a soft drink, the Schweppes mojito goes well with small chops
Originating from the Caribbean, the Cuerpo Gold Rum is distilled from sugar cane. this very delicate rum carries the Caribbean spirit wherever it goes. It is deep yellow in colour with a complex blend of banana and vanilla which gives it an elegant finish and refined aroma.
A premium liqueur and a delectable blend of the Alizé VS cognac, passion fruit, strawberries, litchis and rose petals. The fusion of litchis and strawberries gives the blend a sensational flavour. A smooth and sweet full bodied liqueur, it is the perfect cocktail drink to pair with small chops.
Other beverages that can be paired with small chops include:
Fruit juices are an excellent pairing with small chops.
Chivita is made from 100% natural fruits squeezed into the most natural blends. It is sparkling, refreshing, sweet crispy with a high quality fruity taste. Chivita fruit juice can be used at any occasion, use it to refresh yourself at home or your friends at the party.
It is available in five flavors: Real Orange , Real Apple , Real Red Grape , Real Pineapple and Real Lychee
Order your carton of Chivita fruit juice from myliquorhub.com at the best price.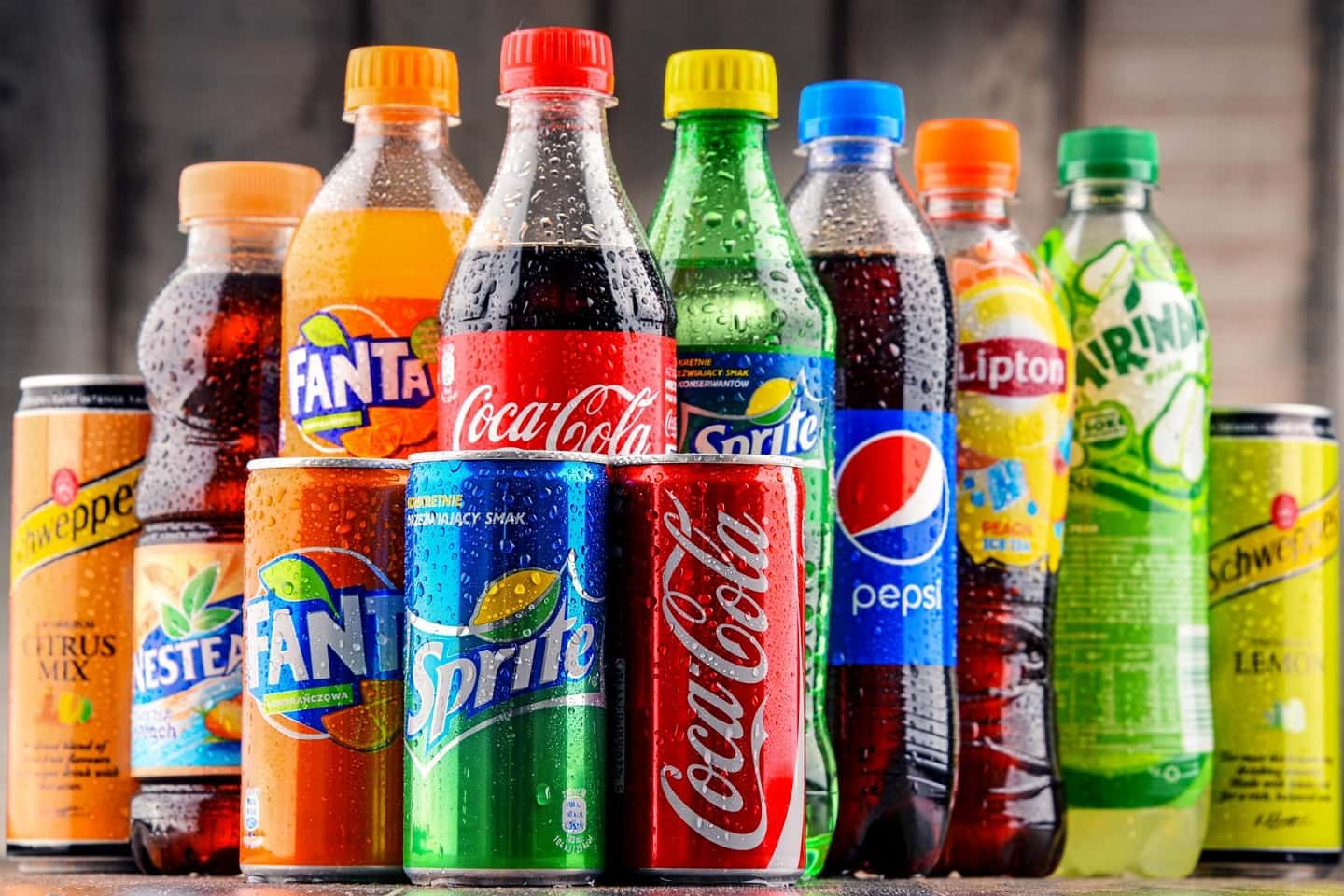 Soft Drinks
Soft drinks: Soft drinks is a common beverage at Lagos parties, birthday parties etc. There are different brands of soft drinks so this gives an opportunity for a wide choice of variety.
Coca-Cola: the best selling and most popular cola soft drink in the whole world. Coca-Cola is refreshing with a crisp cold and wonderful cola flavor taste. Like most soft drinks Coca-Cola goes excellently with small chops. Coca-Cola is best taken chilled and it can be taken at any time, to cool down under Lagos's hot sun or to wash down your small chops at that wedding party.
Order your coca-cola from myliquorhub.com and have it delivered to your doorstep anywhere in Lagos.
Yoghurt: Yogurt is a dairy product made by fermenting milk with a yogurt culture. This drink provides protein and calcium, and it may enhance healthy gut bacteria. On the other hand, yogurt tastes really nice when taken with small chops
Smoothies: A smoothie is a blend of different fruits into a drink. Smoothies are very healthy type of drinks and they are recommended to take alongside small chops
Zobo : This is a type of drink produced from dried roselle or sorrel leaves(hibiscus flowers). It is bright red in colour, it is loved a lot at Nigerian parties. Fruits like watermelon, pineapples, apples can also be cut into chunks and added in Zobo to improve the taste
To enjoy your small chops to the fullest get on myliquorhub.com and purchase the best beverages to wash them down with also show up at Lagos parties, birthday parties, Nigerian weddings, picnics etc and you'd be sure to find small chops in abundance.
Snack-making business is a very lucrative one in Nigeria and starting small is good idea. Start as early as possible and generate cash so that you can get early moving advantage. There are some key point that will help you to grow your business un
Never compromise on quality and customer, make sure you make high quality snacks and have in mind that quality matters before quantity.
Prefer local taste and tradition: when making the snacks, you should put the local taste and traditions in your area into consideration i.e make something that people in your area are used to.
Use automation
Packaging should be as per local law (package foods needed licenses)
Make your business presence in social media: Do well to advertise what you do on social media by posting pictures and videos
Develop your brand as one that's health and environment conscious
Start participating is social events in city and promote your brand: Endeavour to get involved in social events around you, especially events like picnics, hangouts, birthday parties. This way you get to prepare snacks and present at these gatherings, this will make people discover you and what you do.