Brandy is one of the most consumed alcohol beverage in Nigeria, to brandy drinkers it represents sophistication and elegance. Good brandy is not cheap so it is also used to show class. Nigerians drink brandy in many forms, pure and in cocktails. It is one of the most common alcoholic beverages in personal home and office bars and it is not uncommon to see it on customers tables in nightclubs and bars. These are some of the top brandies enjoyed in Nigeria :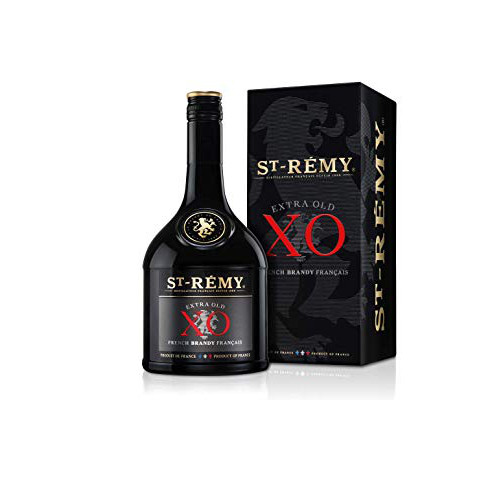 The St Remy XO is a multiple award winning brandy, one of the world's most liked and prestigious brandy. The brandy represents sophistication, the St Remy is renowned for its savoire faire and unique aromatic identity, it is a rich and complex brandy that duly represents the St Rémy House.
From the heart of the French Loire valley, the brandy is made from a closely guarded secret recipe that has been passed down from generation to generation for 130 years. The grapes are selected from the best vineyards in France :Bordeaux, Burgundy, Champagne, Beaujolais, Languedoc-Roussillon and the Rhône and Loire valleys ; it is characterized by a wide variety of grapes giving it complex and diverse aromatic notes.
The St Rémy XO has a luminous amber color tinted with subtle and rich red hues in an iconic black bottle ; it has a mature nose with delicate oak and vanilla aromas joined with hints of ripe fruits and honey.
It has a signature taste that is well rounded with a subtle and surprisingly long finish; subtle notes of wood and vanilla enriched with gingerbread, candied apricots, dates, figs and nut flavors.
St Remy XO can be enjoyed neat, on ice or in classic cocktails.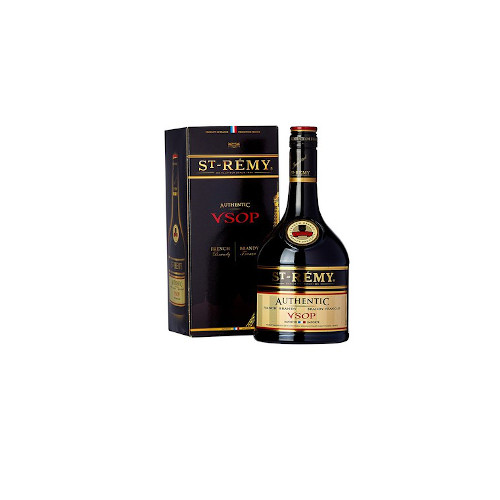 An iconic French brandy and one of the most prized and prestigious brandies in the world. The St Rémy VSOP represents the iconic and historical savoire faire of the St Remy House made from a secret recipe.
The St Remy VSOP has a Amber-yellow color with golden highlights, on the nose it has initial notes of alcohol that are quickly replaced by rich fruity aromas of cherry, gooseberry and wild strawberry that blends with woody and vanilla tones of oak to create a general pleasing, harmonious and smooth aroma.
The St Rémy VSOP has the taste of small freshly picked red berries and sweet oaky vanilla flavor, the taste is rounded and well balanced.
It is excellent neat, on ice or in cocktails.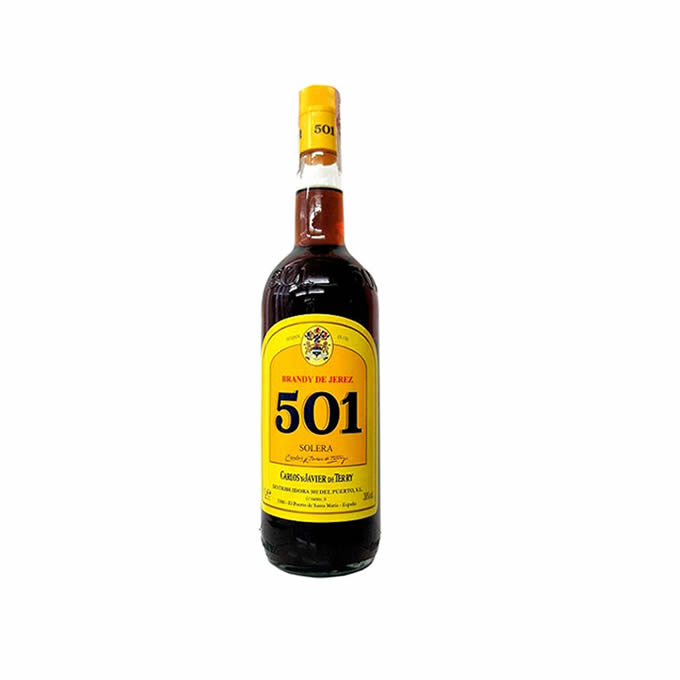 The 501 brandy is produced in the southern Spanish province of Cadiz. It was established in 1783 using the old tradition of "Criaderas y soleras", using selected wine distillates which is then aged in American oak casks previously used for sherry.
Made in the magical land of Jerez where the unique soil mixed with the Andalusian sun and the winemaking prowess of the region combine to make the 501 brandy special. The producers of the 501 brandy took advantage of it prime location in el Puerto de Santa Maria to become one of the major brandy producers in Spain.
501 is distilled from pure spirits that have been strictly selected for its quality. It has a unique taste and aroma that comes from maturation for a long time in American oak barrels; it has a beautiful dark amber color with slight mahogany reflections due to aging in mahogany casks which also gives it a sweet taste. It has aromas of dried fruit and a delicate feel in the mouth.
You can enjoy the brandy neat on the rocks or mixed as part of a brandy cocktail; it can also be paired with deserts.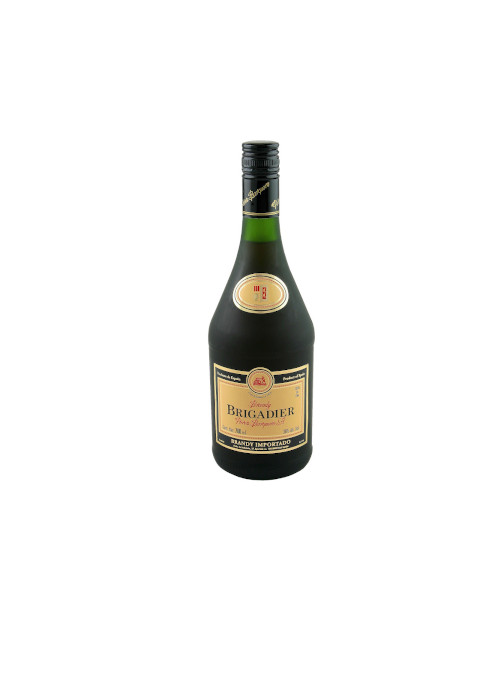 This is a fine Spanish vsop brandy from Andalusia in southern Spain from the Perez barquero winery, it has an almost jet black appearance. It is made from Spanish grapes and stored in wooden barrels for at least four years. It has a very smooth feel in the mouth, caramel scented with hints of ripe dried fruits.
The brigadier brandy is a great drink for gentlemen and ladies, it is perfect for sipping neat and for mixing in any cocktail of your choice. A good drink to end the night with whether you are chilling with friends or alone.
Also known as the jewel of Alvisa, the alvisa xo is an exceptional brandy obtained after a process of double distillation in French charentais alembics and aged in centenary oak barrels for 6 years.
The alvisa has an exquisite personality with the aromas and tones of French limousine oak.
The alvisa xo strikes the perfect balance between smoothness aromas and aged brandy.
The unique and exclusive bottle design and premium glass is a metaphorical representation of the unusual and original recipe of the alvisa xo brandy.
It has a clean an bright amber tone with mahogany and old gold tints that makes it unable to miss it; intense and elegant aromas of oak and vanilla that well distinguished with cocoa and nuts, the taste is well rounded, warm and velvety with a long finish; the French oak barrels has a special toasted flavor that enhances the complexity and smoothness of the drink.