Myliquorhub.com presents to you some of the liquors to watch out for in the year 2021- limited edition whiskey, vintage wines that are going to reach full maturity in the coming year, previously unpopular liquors that are starting to appeal to consumers and beginning to gain popularity. With the world looking to fare better in 2021 in coping with the pandemic, bars, clubs and drinking holes might start reopening gradually- these are some of the liquors consumers should be looking out for.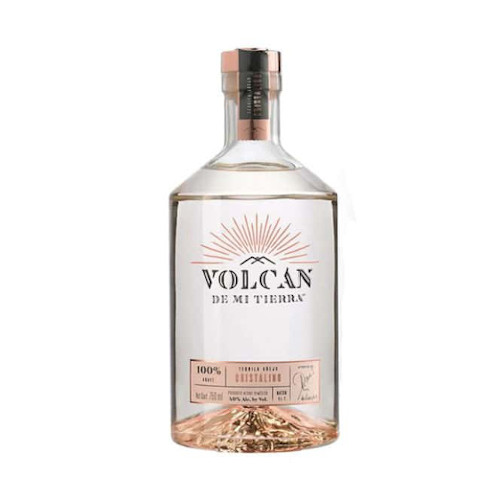 This tequila is named after a real volcano "volcan de Tequila" in the Jalisco region of Mexico; the name means "volcano of my land". The volcanic ash from the volcano has created a soil rich in basalt and iron and this is what gives this tequila its particular taste. The volcanic filtered water used in production helps to produce this smooth pleasant spirits.
It is aged for more than a year in oak barrels that imparts rich velvety chocolate and nutty notes to the already sweet and crisp tequila.
It has deep flavor with notes of vanilla, Caramel and chocolate and a light and balanced finish.
A proud product of the Moet-Hennessey family. It is best enjoyed in its pure form but it can also be used as part of cocktails.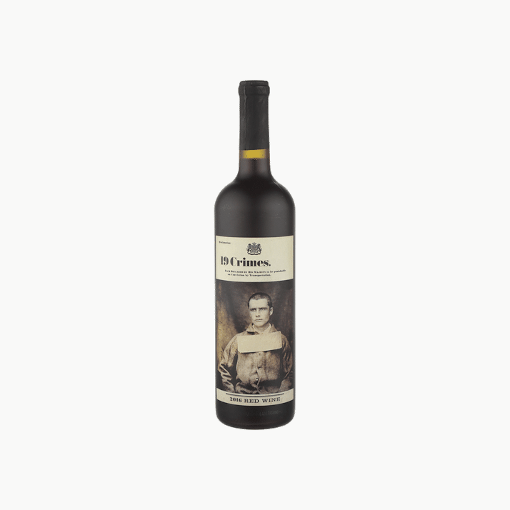 Inspired by the legendary British prisoners who were sentenced to live in Australia for being guilty of one of the nineteen crimes. They turned from convicts into colonists, they made a new country and new lives. These wines are inspired by the rules they broke and the culture they built. There are five impressive wines in the lineup of 19 crimes:
19 Crimes Snoop Dogg Cali Red Blend
The red Cali blend is inspired by entertainment icon, culture creator, innovator and leader in pop culture, Snoop Dogg who embodies the 19 crimes qualities "defiant by nature, bold in character" and more through hard work and perseverance. The Snoop Dogg red blend is full and with strong black fruit notes up from the petite Syrah complemented by bright red, slightly candied fruit in the background from the zinfandel. The darkly toasted oak ties completes with slightly sweet finish.
19 Crimes the Uprising Red Wine
The uprising red wine is medium with bright ruby hues. It has an intense nose of lifted mocha, sweet spice and raspberry fruit. It is a full and round wine, with a mocha and spicy sweetness and subtle flavors of brown sugar and cinnamon giving it a rich and round moth feel; it has a plush finish filled with jammy blackberry and raspberry notes.
19 Crimes the Punishment Pinot Noir
The punishment Pinot Noir is a medium intense burgundy with a lively purple rim. The aroma contains notes of cherry and strawberry fruit complemented by rich vanilla overtones making it a warm and inviting aroma. On the palate, it is medium bodied with soft round tannins, cherry and strawberry fruits completed by strawberry sweetness and spice oak undertones. The pinot noir is a well-balanced, enjoyable wine with a long finish.
19 Crimes Cabernet Sauvignon
This wine has a rich bright red to crimson color with aromas of lifted vanilla aromatics balanced with red currants, violets and mulberry fruits. It is firm and full on the palate with a subtle sweetness. Subtle flavors of red currants, dark cherries and chocolate are complemented vanilla; dark berry fruit flavors and soft tannins complete it with a lingering finish.
Johnnie Walker Blue Label Ghost and Rare Glenury Royal
The ultimate luxury Scotch whisky and the rarest and the most prestigious of the Johnnie Walker brand. The third in a series of special releases crafted using incredibly rare whiskies from the unparalleled Johnnie walker reserves. Ghost whiskies are irreplaceable whiskies from "ghost" distilleries that have long since closed making them sought after. At the heart of this whiskey is the highland single malt, Glenury royal, a ghost distillery that has been closed since 1985. The johnnie walker blue label crafted by blending highly sought after ghost whiskies from Cambus and Pittyvaich with five incredibly rare malts from glen Elgin, Inchgower, Glenlossie, Cameronbridge and Glenkinchie.
The blue label is smooth with nutty layers of dark chocolate, waves of vanilla, heather honey, dried fruits and underlying notes of creamy toffee and butterscotch perfectly balanced by rich, fruity, sweet apple and delicate apricot character of Glenury royal.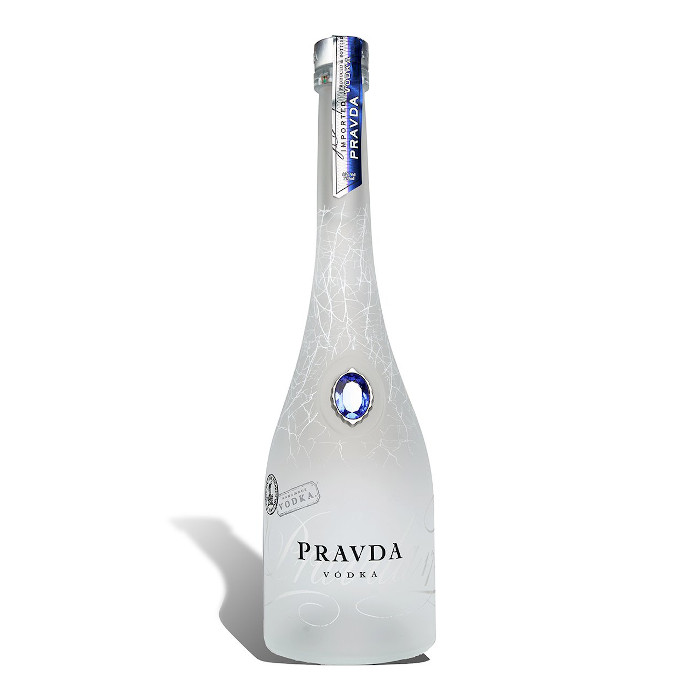 Pravda vodka is a handmade premium vodka made from carefully selected late harvest sweet rye grains and pure spring water from the Carpathian Mountains. A luxury vodka from Poland, the rye used is gotten from the Wielkopolska fields, the rye is untreated and natural, giving the vodka a softer, mellower taste.
Pravda vodka is a custom vodka made with passion and care; it is made with a unique five step distillation process to give a polished vodka with high level of purity and cleanliness. The distillation process is done in copper column stills and an additional measure is taken in an extra unique copper still where the material reacts with the pure elixir to smoothen the flavor. The softened liquor is then reduced using spring water from natural rainfalls, the water is only filtered to remove sediments and heavy minerals leaving the characters intact. The blending process is delicate and takes up to two weeks to guarantee the integrity of the spirit then special charcoal made from French Birchwood is used to filter out any impurity remaining in the liquid.
Pravda vodka is bright , clear and translucent , it has  a delicate bouquet with spicy with spicy notes of black pepper and cardamom; on the palate it is warm and oily with a distinctive taste of rye grain, a touch of creamy vanilla and a long finish that features a smooth powdered sugar, talc and white pepper dust fade.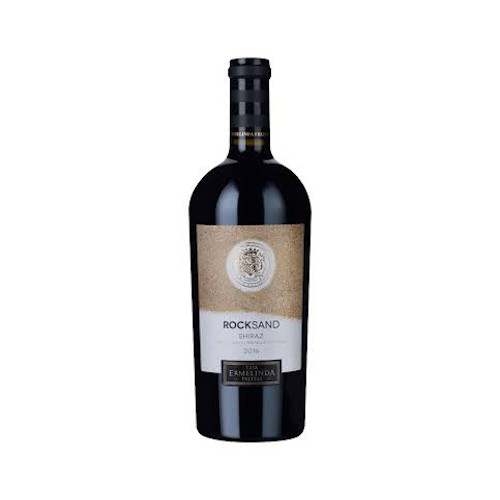 Rocksand Shiraz comes from Portuguese Winehouse, Casa Ermelinda Freitas, established in 1920 by Deonide Freitas and continued by her daughter and then her granddaughter. The Rocksand Shiraz is made from grapes sown in sandy soil similar to beach sand an rich in underground water, which plays an important role in the maturation of the grapes.
The wine has a generous, open and perfumed character; it has flavors of vanilla, chocolate, oak, Blackberry, dark fruit, Pepper, cinnamon, licorice, Cherry, red fruit and raspberry.
The Rocksand Shiraz is best sipped straight and can be paired with many varieties of food.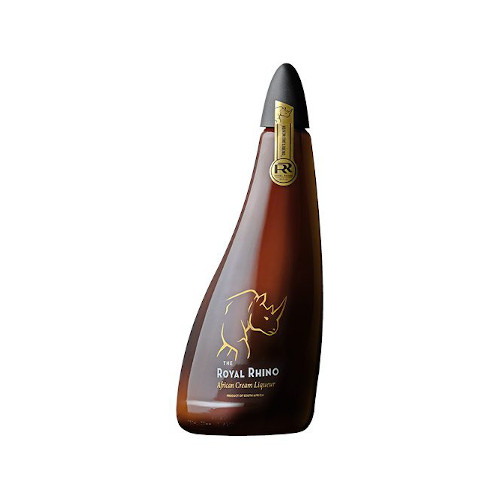 The Royal rhino coffee liqueur was created to honor of the black and white rhino, the bottle is designed in the likeness of the graceful curve of the rhino horn, With no mid-line, no straight lines and an entirely unconventional silhouette, this unique bottle design spreads a message of conservation to stop the poaching of rhinos in Africa. This packaging perfectly preserves the flavors while simultaneously echoing the brand's commitment to protecting the rhinos.
A blend of two African flavors brought together in a distinct fusion; Arabica coffee flavor and flora vanilla flavors are blended with fresh dairy cream, the robust, rich and bold taste of the Arabica coffee is balanced with the flavor of fragrant vanilla to create a unique African liqueur with a signature velvet finish.
You can enjoy this unique African taste by enjoying it over ice in a short glass, or mix it up with an exotic or classic cocktail, it is also delicious when drizzled over ice cream or to flavor a specialty desert. Every drop of this liqueur serves a purpose- to protect and honor the rhino.