Gin is a distilled alcoholic drink whose taste is predominantly derived from juniper berries and other botanicals. It originated as a medical liquor made by monks and alchemists across Europe, it is a descendant of the Dutch spirit genever.
Gin is one of the bestselling alcoholic beverages all over the world, a sweet tasting alcoholic beverage with herbal flavor marked with citrus and spices. Gin is drunk in every corner of the world although production is specialized to some countries, most of the world's best gins come from Europe, especially the United Kingdom, most gins contain similar ingredients and the method of production is usually not too different from each other; it is a primary ingredient in one of the world's most popular cocktails 'gin and tonic' and is also a wonderful ingredient of many other cocktails.These are some of the bestselling gin products of 2020: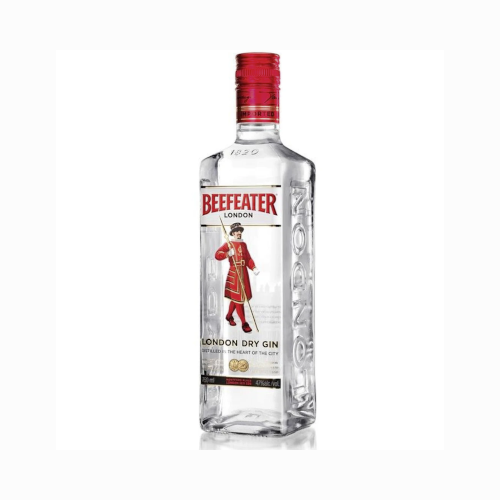 Distilled from 100% grain spirit, and containing nine different botanicals: juniper, angelica root, angelica seeds, coriander seeds, liquorice almonds, orris root, Seville oranges and lemon peel. The Beefeater gin is a tried and tested gin.
The Beefeater gin brand is owned by Pernod Ricard and bottled and distributed in the United Kingdom by the company of James Burrough; the name describes the yeomen of the guard who are a bodyguard of the British monarch.
The Beefeater ia produced with a unique style where the lemon peels ,Seville oranges and other botanicals are steeped for a full 24 hours before distillation to fully extract the flavor from the botanicals and capture a wide range of volatile oils; the distillation process itself takes up to eight hours to complete.
The Beefeater is a quintessential London dry gin with big juniper character and strong citrus notes, it sets the standards for London dry gins and is the world most awarded gin. Beefeater's history began when James Burrough bought a Chelsea based distillery from rectifier and compounder, john Taylor and started producing his own distinctive style of gin.
The Beefeater recipe dates as far back as 1863; it boasts of maximum flavor in every bottle, spicy, fruity notes that makes Beefeater comparable to premium brands.
Beefeater is best enjoyed when it is sipped straight but it can be mixed in cocktails especially with a sweet vermouth or in a classic Gin and Tonic.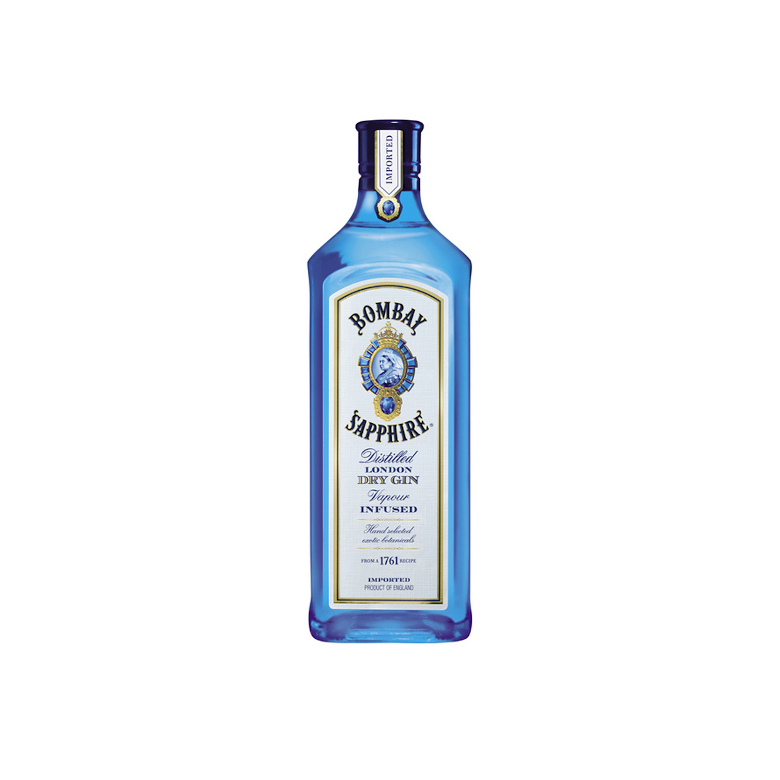 The Bombay sapphire is made from a blend of ten carefully selected botanicals ingredients and a unique distillation process. It was first launched in 1986 by English wine merchant IDV. The name originates from the gin's popularity in India during the British raj and "sapphire" refers to the violet-blue star of Bombay which was mine from Sri-Lanka.
The Bombay sapphire has a clean, bright flavor with a vibrant peppery finish; the flavor comes from a recipe of 10 ingredients: almond, lemon peel, liquorice, juniper berries, orris root, angelica, coriander, cassia, cubeb and grains of paradise. Using a carterhead still, alcohol from another supplier is evaporated 3 times and the vapor is passed through a mesh containing the ten botanicals to gain flavor and aroma, this gives the gin a lighter and more flora; taste than other gins.
The Bombay sapphire is bottled in a flat sided, sapphire-colored bottle that bears a picture of Queen Victoria on the label.
The Hendricks gin is produced by William grant and sons, it was launched in 1999. It is made using two different stills: the Bennet still to steep the botanicals overnight before distillation and the carterhead still to steam the botanicals gently in a mesh. The botanicals used include juniper, cubeb berries, elderflower, chamomile, angelica, lemon peel, orange peel, coriander, yarrow, orris and an infusion of cucumber and rose petal.
A blend of spirits produced from a carter head still and a Bennett still, both still produce strikingly different styles of gins due to their different construction and distillation methods.
Hendricks's gin is described as an unusual gin, it is a curious liquid with a unique character that stands out from the rest; it is exceptionally smooth with a nice balance of subtle flavors which include notes of flowers, fruits, roots and seeds from across the world. It has been described the wall street journal as the best gin in the world.
Hendricks's gin has big creamy aromas with a little zesty citrus, juniper, rose petal jelly and cucumber; on the palate, it has fresh notes of cucumber, juniper, oak, vanilla and a long refreshing floral finish.
Hendricks's suggests that the gin be served with tonic water over ice garnished with cucumber instead of the traditional citrus.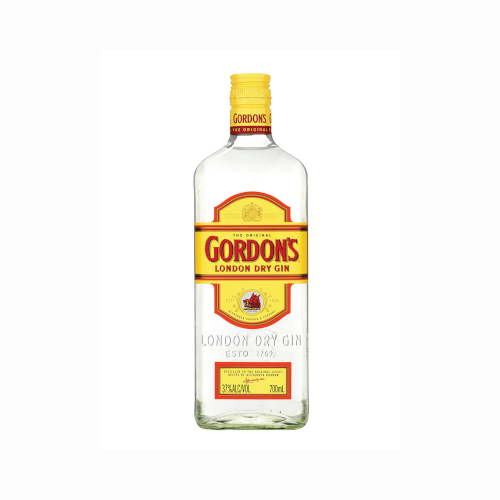 Gordon's London dry gin was created in 1769, it is one of the oldest gins and is made from a secret known by only twelve people. It was developed by alexander Gordon who set up a distillery in London before it was moved to Scotland where it has been primarily produced till today.
Gordon's London dry gin is one of the very first gins to be drunk with tonic, the recipe has proved successful that the recipe has remained unchanged till today; Gordon's dry gin is one of the bestselling spirits in the world and the number one choice of gin connoisseurs over the years. It is packaged in a square faced bottle with the label and bottle top bearing the depiction of a wild boar (According to legend a member of Clan Gordon saved the King of Scotland from the animal while hunting).
Gordon's dry gin is triple distilled and flavored with juniper berries, coriander, angelica and one other botanical; it has aromas of juniper, lemon zest, hints of soft sweetness and fresh herbs. On the palate, it has very clean dry juniper delivery that develops with lemon and other citrus notes plus a simple, medium-length finish.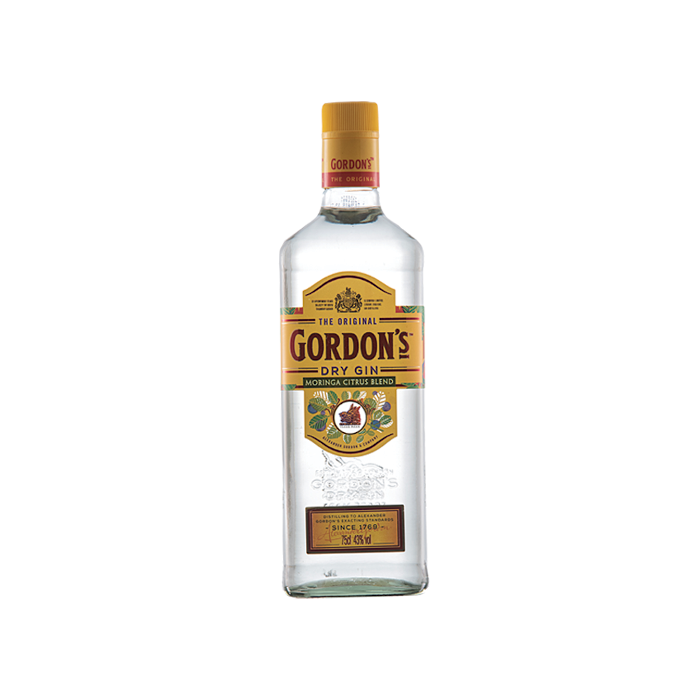 A blend of Gordon's London dry gin combined with the zest of Africa and made with passion and vibrancy. Gordon's Moringa citrus blend was created to celebrate a generation who wants the worls's best and like to make it their own. The Gordon's Moringa citrus blend is the first of its kind, it has a clean and crisp taste, a feature loved very much by gin drinkers; it is an award winning gin that is 'best in class' with the quintessential gin character – very juniper-dominant & fresh