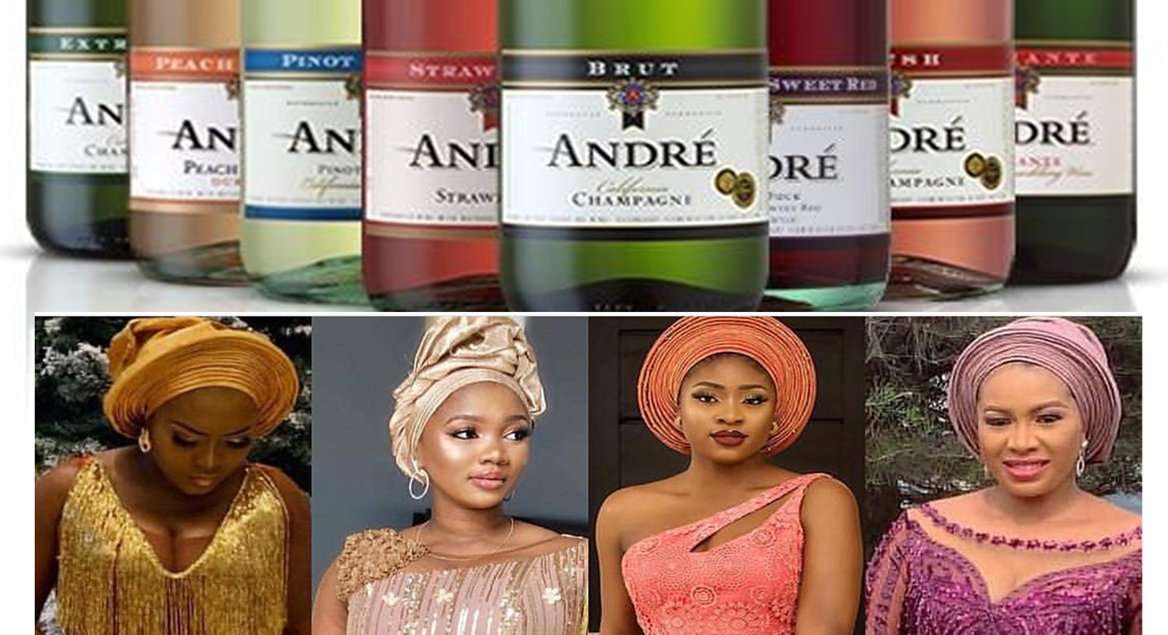 HOW WINE INSPIRED THE ASO EBI STYLE
Nigerians are party people and when they party, they put up elaborate performances. One of the most important things in a Nigerian party is the Aso ebi. A lot of effort is put into finding the best Aso ebi for a celebration, be it a wedding ceremony, naming ceremony, birthday party or even a burial.
Like all other things, Aso ebi trends also changes and differs from time to time, in 2020, aso ebi goals is the burgundy and champagne gold combination. Aṣọ ẹbi come in almost all shades of colours, the burgundy wine and champagne gold combination is matching of colours close to the Carlo rossi red and rose wine and the sparkling gold colour of champagne, these colours complement each other very well. Other colours can also be matched with champagne gold and Burgundy wine and there are also numerous other aso ebi combinations :
Champagne Gold Aso ebi combination
Purple Aso Ebi Combination
Burgundy Aso ebi combination
Magenta Aso ebi combination
ASO EBI
Aso ebi is a uniform traditional outfit that is commonly worn in Nigeria and some other West African countries to display cooperation and solidarity at ceremonies or during festivals. The word aṣọ ebi originates from the Yoruba words; aso which means cloth and ebi which means family. It is a must have in every Traditional event
One interesting thing about the aṣọ ebi is that it comes in a variety of colours, with funny names. An example is the burgundy wine, and champagne gold aso ebi. As much as the name sounds funny, these colours of aṣọ ebi actually exist.
Choosing aso ebi can be quite easy, just a few things to consider like;
Wedding/occasion theme: The theme of the day's occasion determines the colour of aso ebi and type of the aso ebi to be picked. So you have to make sure a particular colour is available in the market before choosing it as your theme
Colour: after choosing a desired theme for the wedding, you need to pick a colour that goes with it. You also need to consider trends when picking colours, choose colours that are in vogue i.e popular colours in use during that period
You also need to consider the colour combinations available, putting the gele, an important part of aso ebi into consideration. The following are colours that can be matched together to create a beautiful look on guests;
Burgundy and Champagne Gold and Wine Aso ebi
Champagne Gold and Wine Aso ebi
Wine and silver Aso ebi
Champagne gold Aso ebi
Wine and peach Aso ebi
White and Peach Aso ebi
Burgundy and onion Aso ebi
Emerald Green Aso ebi
Emerald Green and Burgundy Aso ebi
Champagne Gold and Royal Blue Asoebi
Emerald Green and Gold Aso ebi
Emerald Green and Peach Aso Ebi
Burgundy Aso ebi
Magenta and onion aso ebi
Tradition: this is a major factor to consider when choosing aso ebi. Culture and practices always determines the type of aso ebi to choose. You can get the help of elders in the family to choose a fabric that suits best.
Nature of event: it was said earlier that aso ebi is used at any traditional event. The event should hereby determine the type and colour of aso ebi used eg aso ebi for a burial ceremony shouldn't be too bright and aso ebi for a wedding is expected to be bright and vibrant
Fabric quality: the quality of the fabric is very important in picking aso ebi for events. To present your wedding as rich and spectacular, you should choose a fabric with a great quality, it also helps on encouraging guests to purchase the aso ebi
Cost of purchase: it is said that the better the quality, the higher the cost. But sometimes, dubious people are out there so it's better you get quality for your money and this is by knowing good fabric and getting from a reliable source. You can set a standard, while doing it at a moderate cost.
Aso ebi styles
As aso ebi evolves and becomes more popular, the more new styles develop. Aṣọ ebi can be sown into ìró and buba, skirt and blouse, gowns, agbadas, boubou, etc It is sown in different styles according to different tastes in fashion, culture, customs and beliefs so there are differences in celebration all around the world. Style ideas are gotten from different fashion pages like Aso ebi bella page, BellaNaija.com, aso ebi 2020 etc or sometimes designed by prominent fashion designers around the world.
Types of aso ebi
Ankara: These are colourful fabrics made with wax prints. It usually has different patterns and prints.
Lace: lace comes in different types such as tulle, cord, paper, sequined, beaded, George and French laces. Some come in a combination of colours and some come in a combination of types.
Aso òkè: it's made from cotton and sometimes combined with other materials like silk and metallic yarn. It's used in making agbadas, fila for men and gele, ipele for women. Aṣọ oke is mainly found in Nigeria as it's produced by the Yorubas.
Aso ebi is a prominent part of wedding celebrations in West Africa countries. It gives a feeling of togetherness and belonging. Just living up to its name, Aso ebi.