Lagos is the party capital of Nigeria with parties happening here and there and nightclubs packed with clubbers and party goers; a constant feature of these Lagos parties is alcohol, which the party goers use to make their partying more interesting.
Almost all types and numerous brands of alcohol is enjoyed at these parties. One of the most prominent types of alcohol enjoyed is cognac. Cognacs are enjoyed because of the quality of their taste and in some cases, having bottles of cognac at your party or on your table at a night club could also mean affluence or sophistication.
Some of the popular cognacs enjoyed by Lagos party goers include: Hennessey, Martell cognac, Remy martin, ciroc, Dusse etc. but there are also other cognac brands, although not as popular as the  brands mentioned above are high quality products. One could call them underrated because they are not as demanded as the others but they can stand side by side with them and their quality is appreciated by experienced cognac drinkers.
 These are some of the underrated cognacs and they can all be bought on myliquorhub.com:
BISQUIT VSOP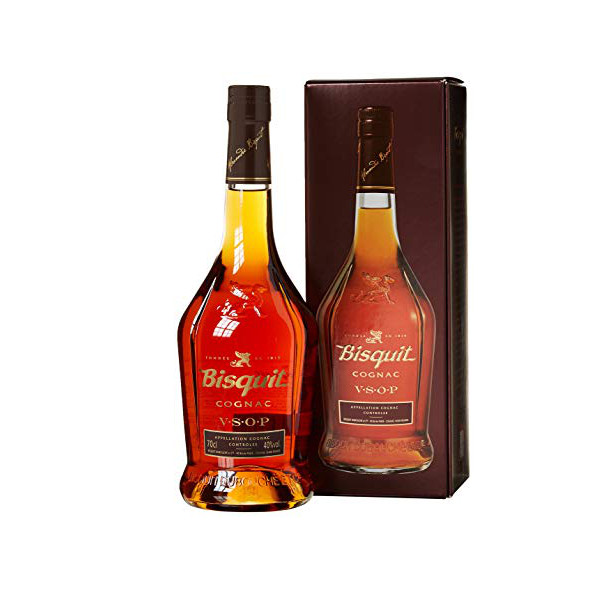 The house of bisquit from whose cellars the bisquit vsop comes from was founded in 1819 by alexander bisquit at the chateau de ligneres by the banks of the Charente River, deep in the heart of the cognac region. Inspired by alexandre bisquit himself, the bisquit vsop is said to have been among the favorite cognacs of late british prime minister Winston Churchill and king George iv. The house of bisquit was upheld by a longstanding family tradition until it was sold to Pecord Ricard in 1966. The company was later sold to South African group Distell in 2009 due to its popularity in Anglo-Saxon countries.
Bisquit cognac vsop has a smooth and mellow character with a long finish, it aromas of ripe fruits and flowers and it is packed with fruity flavours, amber warmth and spices that makes for a memorable taste. Made from the prestigious petite et grande champagne eaux de vie that enhances the Longue distillation process.
Bisquit vsop is a perfect cognac for sipping neat or for mixing with drinks, whether you are hanging out with friends or chilling by yourself, it is a great cognac to get you in the mood; it is a drink for real gentlemen and ladies.
BOWEN VS COGNAC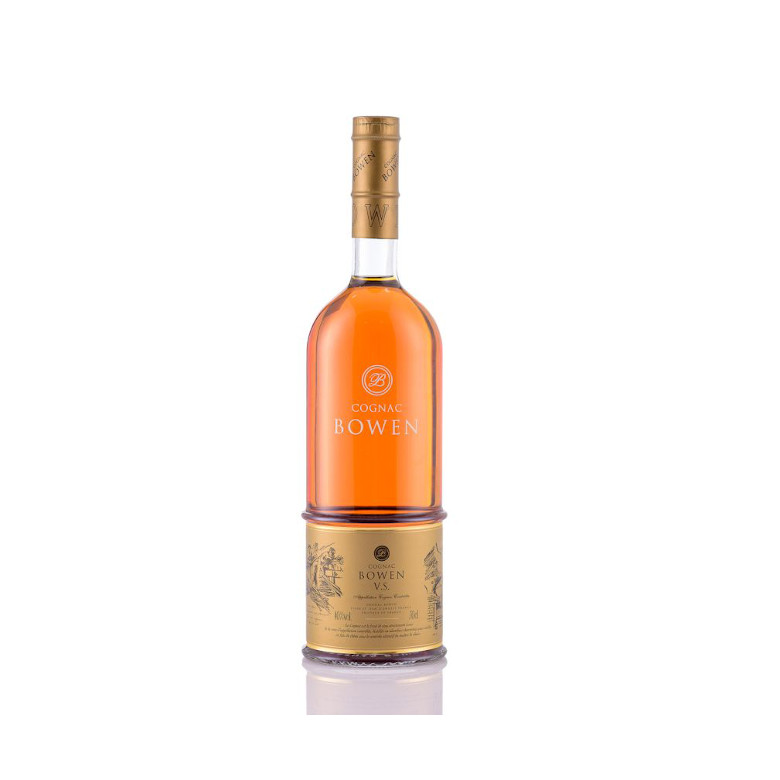 Bowen cognac can be considered a lovers cognac because it born out of a man's love for a woman coupled with the excitement of travel and intrigue. It was created by Louis Olivier chabasse after meeting elysabeth Bowen during his journey in India. Bowen cognac are known for their miniature sized cognac bottles
Bowen vs. is a young cognac that has been aged in oak barrels for at least four years , it has captivating aromas of vanilla added by aging in limousine oak casks and notes of fresh fruits and flowers: pears, plums and nuts.
Made from a blend of ugni blanc(80%), colombard(15%) and folle blanche(5%) grapes, Bowen vs. has a shiny dark gold colour with amber highlights. On the palate, it has a soft personality encased by a powerful body with lively fruitiness.
To make Bowen vs. cognac, the grapes are harvested early in the year and fermented into acidic white wine to protect against acidification; this acidic wine is distilled twice using traditional charentaiser distillation process in a copper kettle then it is put in chosen limousine oak casks for maturation where it is left to mature for 2-3 years.
Bowen vs. cognac is best served as a digestif and it can be enjoyed solo whether neat or on ice.
CRIDENI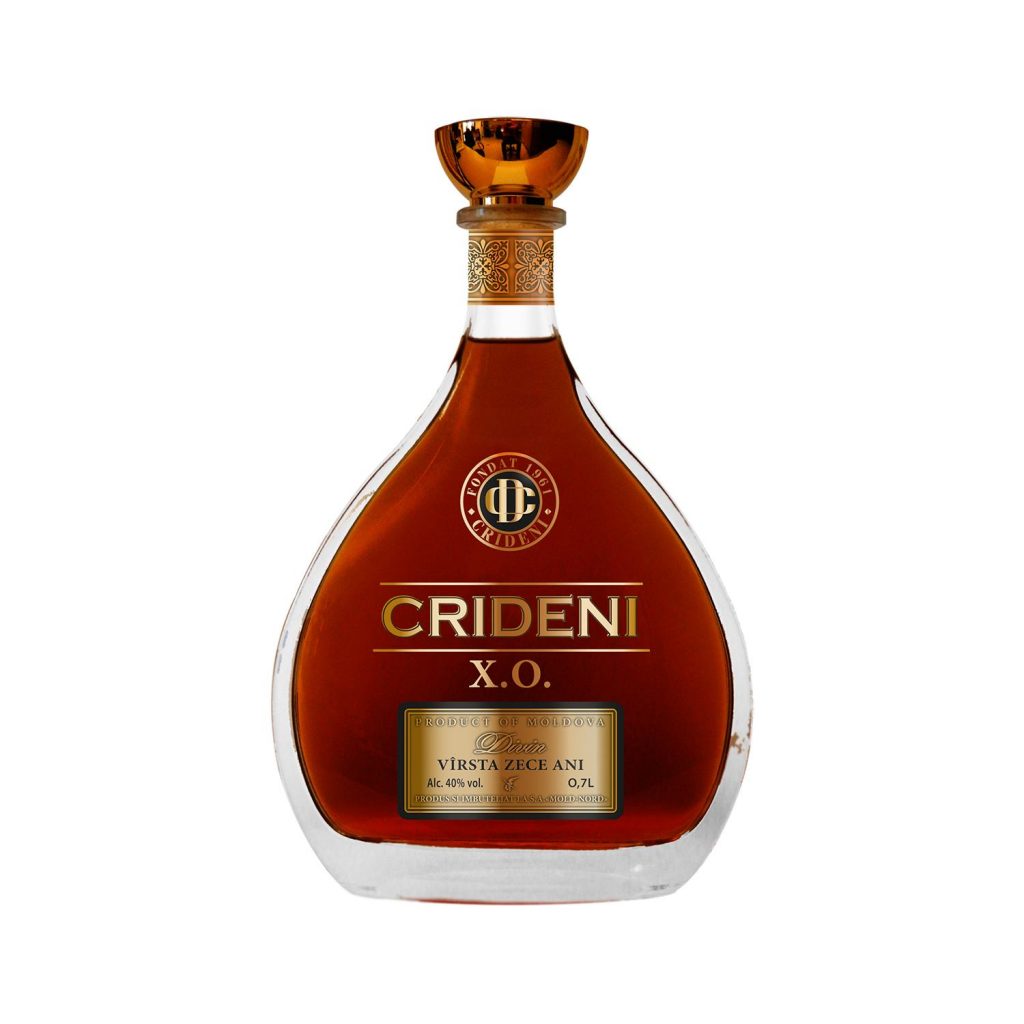 The crideni brand is inspired by the incredible splendor and naturalness of the Moldovian sun, boasting of over a century old tradition which prioritizes quality. The brand has maintained a unique style over time as a result of careful selection of expressive and distinctive distillates which is then matured in French oak barrels. Two of their products that can be bought on myliquorhub.com include:
CRIDENI VSOP
Crideni vsop is made from a blend of distillates gotten from Vitis Vinifera grapes. It has a subtle and balanced flavor that is full of vigor; it has notes of ripe cherries, caramel, vanilla flowers, dry fruits, chocolate, honey and spices with cedar tobacco and oak shades. The crideni vsop possesses a pleasant and long aftertaste and it is aged in French oak barrels for at least 5 years.
A perfect drink for celebratory occasions or for hanging out with friends; it can be enjoyed, neat on the rocks or as part of a cocktail.
CRIDENI XO
The crideni xo is made from a unique blend of grape distillates gotten from vitis vinifera grapes. Possessing an elegant and refined taste with flavors' of crème brulee, honey; it has aromas of iris flowers, narcissus, jasmine, oak, walnuts. The taste of the crideni xo is smooth, velvety and long enough to feel like it is never ending; powerful flavor consisting of spices, oak, cigar, walnuts and candied fruits flavor.
The Crideni xo can be enjoyed neat, straight on the rocks or as part of a cocktail; perfect for sipping alone or to serve friends, it is also a great aperitif.
MARTELL VS SINGLE DISTILLERY
The Martell cognac house is one of the oldest of the big cognac houses, founded in 1715, they have maintained the quality of their cognacs; the Martell style is known for its elegance, complexity and balance which is a result of a unique savoir-faire: distillation of clear wines only and ageing of eaux-de-vie in fine grain oak barrels.
The founder of the company jean Martell founded the house with the wish to produce only the highest quality cognac; The Company has strongly implanted itself in the luxury cognac market
The Martel vs. single distillery is made by blending spirits from a single distillation source in the cognac region, this is done in order to produce a richer and more intense expression of the Martell distillation style. Martell double distills exclusively clear wines from which all the sediments have been removed to preserve the authentic fruity aromas of the grapes and reveal an extreme finesse that are the hallmarks of the Martell style.
The Martell vs. is the youngest cognac from the cellars of the Martell house, it is matured for only two years. It is a bright young cognac, fresh and fruity, it is an ideal base for preparing cocktails. It has rich fruit and spicy aroma with notes of citrus, fresh pear, saffron, labdanum and incense along with woody notes from the fine grained oak cask.
It is bright and golden in color with rich fruity flavors', slightly woody luscious mouthfeel with a creamy finish. It can be enjoyed neat, straight on the rocks or in cognac cocktails. Enjoy Martell vs. single distillery on night outs with friends or when you are chilling alone. It is perfect for all occasions