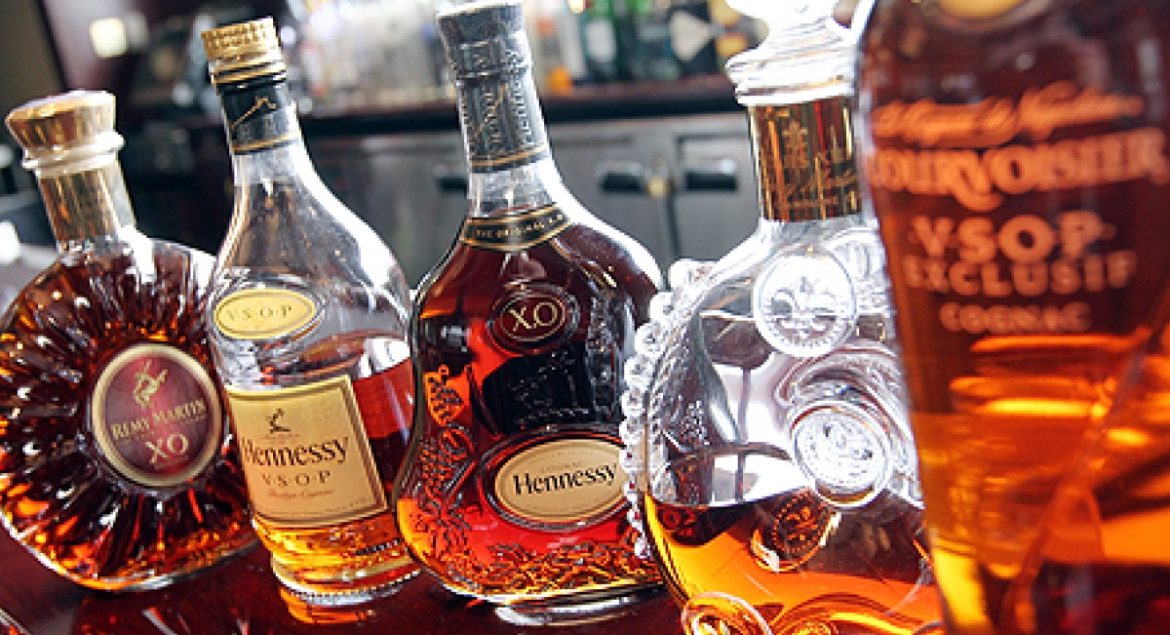 Cognacs are known to be a variety of brandy, coming in variants of VS, VSOP and XO. There are a number of cognacs available in the market, but today we will be taking a closer look at those cognacs brands worth spending your hard earned money on! Below is a list of the best quality selling cognacs you should look out for when next you plan to stock up your bar. 
Hennessy V.S.O.P is influenced by a cognac crafted within the 18th century. Hennessy V.S.O.P has built its reputation over 2 centuries and has become well-rooted and known as the world's favorite V.S.O.P cognac. It is recognized for its harmonious and well-mixed blend of natural ingredients.
Just in case you wondered how Hennessy tasted from the moment it leaves the bottle to the moment it goes down your buds, here it is! On the nose, the primary fragrances perceived are soft spices like vanilla and cinnamon. Then the lightly toasted flavors follow, arising from its passage of time in oak barrels.
Another thing you must know is that the highlight of tasting Hennessy V.S.O.P is that the long-lasting finish, reveals the natural balance of the blend which is that of a superior cognac.
The connoisseur's taste and selection: Preserved in toasted oak barrels, Remy Martin's 1738 Accord Royal is the definition of traditional craftsmanship.
Behind its royal and stunning appearance lies its cool and powerful burst of flavors that are smooth and well-balanced on your taste buds. This may be an original cognac, never changing within its culture. It is said to have been highly acknowledged by the French king himself.
Remy Martin's 1738 Accord Royal Cognac was created to require a seat down between their VSOP and XO. In 1738, it was given the name as a symbol of respect and regard to the Accord Royal and also given to Rémy Martin by King Louis XV granting him the power and right to plant vines on his land. 
Nose:
Abundant notes of plum and fig spread round out by intense oaky notes of toffee and toasted bread.
Taste:
The mellowness of butterscotch and baking spices with hints of bittersweet chocolate.
Body:
Extraordinarily round with a very rich taste and quality of natural aromas seasoned by a delicate blend of Eaux-de-vie preserved in toasted French oak casks.
Naturally aged a minimum of 4 and a half years within the cellars of France's Château de Cognac, D'USSÉ™ VSOP Cognac emerges as a bold, full-bodied blend that arouses the palate. It reveals a robust bouquet, rich in woody notes that are coated with touches of cinnamon and floral notes. Specifically and surprisingly smooth, with every taste, you taste hints of spices, almond, and cinnamon. The exquisite taste of honey and dried fruits are the creme de la creme.
Courvoisier is amongst the four leading Cognac houses within the world – also named because of the 'Big Four'. Stories have it that the emperor Napoléon himself picked Courvoisier as his top choice cognac, however, Courvoisier brandy is popularly noted as "The Cognac of Napoleon". The corporation dates back to 1828 and has since had its headquarters within the town of Jarnac.
This Vintage Connoisseur Collection 12 Years Cognac, as the name suggests, is a 12-year-old vintage. Presented in a stylish bottle, and unlike all of the cognacs within the 'Connoisseur Collection', the Eaux-de-vie comes primarily from the Borderies terroir of the region. But to feature slightly splendor there are some Fins Bois and Grande Champagne cognac included to form balance and harmony.
Courvoisier's Connoisseur Collection is somewhat unique. With cognac, unlike other spirits like whiskey, there's no age specifics, once you get outside the declarations of VS, VSOP, and XO. Therefore the house decided to develop an in-house tracking system that permits them to state the particular age of a specific cognac. 
Remy Martin is one of the world's finest cognacs produced to the highest quality. It is known to be crafted from one of the foremost important cognac houses in France.
The founder of Remy Martin (Remy Martin by name) was born in 1695 near Rouillac, a winegrower by trade who eventually created a trading house of cognac in 1724. He built a successful business that after his death in 1773, his grandson, also named Rémy, continued in line with the vission.
That success continued through the interwar period under André Renaud then the Second war era under André Hériard-Dubreuil. The Remy Martin tradition has strived and excelled under current Cellar Master, Baptiste Loiseau.
The Remy Martin brand is renowned for its special logo – a centaur, a mythological creature whose part Sagittarius matched that of Remy Martin.
Remy Martin VSOP is coppery gold in color, with apricot and peach tones, hints of violet, rose floral notes, and a sweet vanilla finish. Since 1724, the House of Remy Martin has been driven by the search to capture the guts of Cognac. Grapes are sourced from the foremost vineyards which supply the only ageing potential and longer maturation within the casks. The Cellar Master's savoir-faire combines to form Remy Martin Fine Cognac, a cognac of unique aromatic intensity.
An interesting product that focuses on single distilleries, emphasizing the world trend for artisan production and fair trade. Martell VS Single Distillery Fine Cognac – or just Martell VSSD – was the topic of much speculation. It's the youngest Cognac to be launched by the house, aged for under two years. Its fruity notes of plum, apricot, and lemon comfit. The Eaux-de-vie stems from both the Petite and Grande Champagne and is distilled, aged, and blended by one distillery.
In any case, this is often a young Cognac. You'll want to feature some water, ice, or have it in an exceedingly long drink or cocktail.
As with all Martell products, the visual presentation of Martell VSSD is flawlessly elegant. Supposedly, it's a nod to the normal small Cognac tasting flask, but we expect the look team might need to be inspired by the minimalist Japanese Whisky design.
The design reminds us of a touch little bit of VSSD's sister bottle (or rather a cousin bottle) Martell Blue Swift, which isn't a Cognac – and only sold within the US. Blue Swift made lots of waves because it's technically a brandy (or eau-de-vie de vin) but not a Cognac; nevertheless it uses the word VSOP COGNAC prominently on its label – leaving consumers with the impression it's produced under the strict Cognac rules (which it isn't).
Produced from a singular blend of distillates obtained from grape grapes. Subtle, balanced, but stuffed with vigor, with notes of ripe cherries, caramel, vanilla flowers, dry fruits, chocolate, honey, and spices over which cedar tobacco and oak shades fall. It gives a pleasant and long aftertaste, harmonious and stuffed with balance. Aged in French oak barrels for a minimum of 5 years.